Back to top
ELD FAQs & Benefits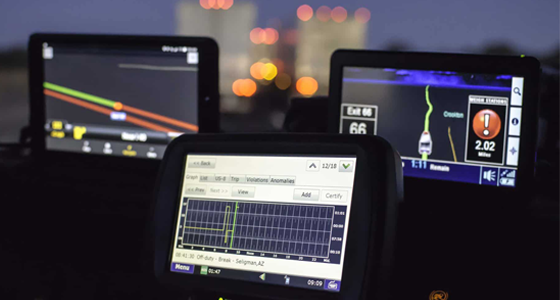 The FAQs and Bottom-Line Benefits of Electronic Logging Devices
The deadline for full compliance with the Federal Motor Carrier Safety Administration's (FMCSA) Electronic Logging Device (ELD) mandate came and went for U.S. carriers back on December 16, 2019.
Now that we've all been living with the new ELD specifications for half a year, we still hear some  frequently asked questions about compliance, exemptions, leasing and rentals. Let's tackle those, and then we'll share some of the significant benefits the mandate gives drivers and fleet managers.
The FAQs
Who must comply with the ELD rule?
The rule applies to most motor carriers and drivers currently required to maintain records of duty status (RODS). This also applies to commercial buses, trucks, and Canada-domiciled and Mexico-domiciled drivers
What are the exemptions to the ELD mandate?
Drivers operating under short-haul exceptions may continue using timecards; they are not required to keep RODS and will not be required to use ELDs
Drivers who use paper RODS for no more than 8 days out of every 30-day period
Drivers who conduct drive-away/tow-away operations, where the vehicle being driven is the commodity being delivered
Drivers of vehicles manufactured before 2000
What ELD documentation—paper or electronic—must be onboard a commercial motor vehicle (CMV)?
A user's manual for the driver
Step-by-step instructions to produce and transfer hours of service (HOS) records to an authorized official
Instructions and requirements to report an ELD malfunction and recordkeeping procedures to use during any malfunction
Blank driver's RODS graph-grids to record the driver's duty status for at least 8 days
Is a driver required to maintain their RODS on an ELD while operating a rental vehicle?
Yes, but there is an exception on property-carrying CMVs rented for 8 days or less
Drivers who rent CMVs subject to an ELD may use the 8 day exception and paper log for a rental period not to exceed those 8 days
A copy of the ELD 8 day exception letter from the FMCSA must be presented by the driver if stopped by a law enforcement official
If the rental period exceeds 8 days the driver is required to have an ELD
Click here for the full FMCSA ELD 8 day exemption letter.
How will the U.S. ELD rule apply to a Canada/Mexico-domiciled company operating a commercial rental truck in the United States?
A driver of a rental truck with an agreement that lasts more than 8 days must comply with the ELD rule unless another exemption applies
A quick note on Canada's ELD rule: Much of it mirrors the U.S.'s, but there is one significant difference worth noting: When Canadian authorities begin enforcement for compliance on June 12, 2021, they will require an ELD that's been technically certified by a third party, NOT just by the manufacturer as the U.S. allows.
So, an ELD that has been approved for use in the U.S. may not be certified for use in Canada. Expect the list of eligible devices approved by Transport Canada to be smaller than the one on the FMCSA's website, and expect it to be published this summer.
We've cleared up a few things for you but there are many more answers about compliance, enforcement, and qualifying for exemptions on the FMCSA's FAQ page. Bookmark it; it's a great resource.
The Benefits
There are lots of ways that ELD compliance has a beneficial effect on your drivers, fleet managers, and your business's bottom line. Here are just a few:
Drivers
Save time filing and submitting RODS
HOS are automatically recorded and are more accurate
Vehicle Inspection Reporting replaces paper logbooks and reduces errors
Fleet managers
On the same page with driver's HOS and location
Insight into vehicle and driver performance
Simplified roadside inspections that eliminate human error
Business
Decreased fuel costs
Reduced downtime
Lower crash rates
Simplified compliance
And the kicker? As an industry, between paperwork and crash reduction costs, we are expected to save about $2 billion annually. So, while change isn't usually met with open arms—this change might make you wonder how wide your arms can go.
If Idealease can help you with any questions about the ELD mandate as it regards to full-service leasing, rentals, or your fleet in general, do not hesitate to reach out to us. We're here for you.